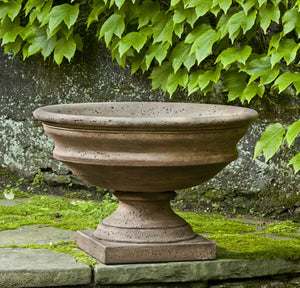 Cast stone products made in the USA using locally sourced materials. All of our cast stone pieces are manufactured using the wet casting technique with a proprietary high density cast stone mix, yielding a PSI strength of approximately 7,500.
The mix is comprised primarily of water, sand, stone aggregate and cement.
Dimensions: 26″ Diam. x 17.25″H
Base: 13″ Sq.
Colors available- custom order  
Shown in Pietra Nuova (PN)