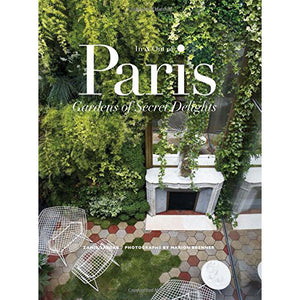 Gardens of Secret Delights
Among the more than 30 great and small projects within In & Out of Paris are Vaux-le-Vicomte, Versailles, and Courances―all classic André Le Nôtre–style French gardens. Also discover the Paris gardens of celebrated artist Jean-Michel Othoniel and art aficionado Pierre Bergé, architect Kenzō Takada's Japanese retreat in the Bastille, Australian couturier Martin Grant's tiny terrace in the Marais, Mexican painter MariCarmen Hernandez's Montmartre rooftop, and American architect Michael Herrman's homage to Le Corbusier's surreal Champs Élysées garden for bon vivant Charles de Beistegui.
Modern masters Louis Benech, Gilles Clement, Pascal Cribier, Christian Fournet, Camille Muller, Hugues Peuvergne, and Pierre-Alexandre Risser are also featured, representing a new era of experiments, color, and asymmetry in the Paris garden.
ZAHID SARDAR is a San Francisco–based editor, writer, and curator specializing in architecture, interiors, and design. His work has appeared in Dwell, Interiors, Western Interiors & Design, Interior Design, House & Garden, Elle Décor, House Beautiful, and Landscape Architecture. He has taught design history at the California College of the Arts and has written several other books, including West Coast Modern and New Garden Design.
MARION BRENNER is an award-winning photographer whose work has appeared in numerous books including New Garden Design, and magazines including House & Garden, House Beautiful, Martha Stewart Living, the New York Times, Elle Décor and Sunset. Her work is also in the permanent collections of the SFMOMA and the Berkeley Art Museum, which showcased her photographs in a solo exhibition. She lives and gardens in Berkeley, California.