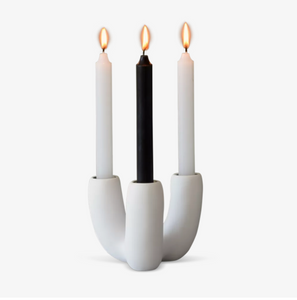 Tina Frey Designs is a collection of modern home accessories, useful objects and jewelry in resin.  The designs are made of lead and BPA free food safe resin. Each piece is handmade, handcast and hand finished with care resulting in unique variations in each item.

The sculptural design of the Trio Candle Holder brings a modern edge to your tabletop. The Trio Candle Holder is eye-catching on its own.

Handmade with care using food safe, lead free and BPA free resin.
Dimensions: 6″ x 4.25″ x 5″
BURN CANDLES IN SIGHT. KEEP AWAY FROM ITEMS THAT MAY CATCH FIRE. KEEP AWAY FROM CHILDREN & PETS.
Burn on heat resistant surface. Keep wax pool free of debris. Stop burning when 1/2″ unmelted candlewax remains. Trim wick 1/4″ each time the candle is lit. Avoid drafty areas. Indoor use only. Follow recommended burn time according to candle used. Never touch or move a hot or burning candle.